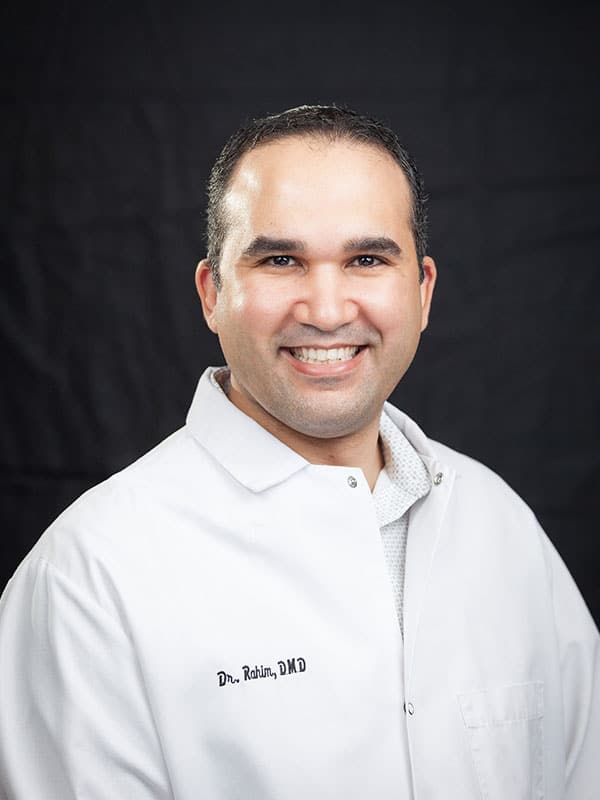 ---
Welcome to Peterborough Family Dental and Implant Center
It is our pleasure to tell you a little about Dr. Rahim and his passion for dentistry.
Dr. Rahim was born in Manhattan, Kansas and lived there until he was 7 years old. His family then moved to Egypt where he was raised. He eventually returned back to the United States to continue his studies in Dentistry.
Dr. Rahim attended Tufts University School of Dental Medicine in Boston Massachusetts and received his Doctorate in Dental Medicine (DMD) in 2010. 
Prior to attending Tufts University he graduated from Minia Dental School in Egypt. Dr. Rahim has spent nearly 10 years of dental and advanced dental training.
He offers multi-generational patient centered general dentistry for the entire family. His passionate, honest, caring heart and strong clinical experience are evident through the high standards and quality of care that he provides to his patients. His ultimate goal is for his patients to be comfortable while at the office and to deliver the best dental care in a safe, professional and friendly environment.
Dr Rahim has special interests in Prosthetic Dentistry, Implant Dentistry and General Care. He enjoys working on challenging cases and full mouth rehabilitation cases.
"I am blessed with a tip top team who is passionate about providing an exceptional experience for our patients. We strive to create strong bonds and trusting relationships with our patients. What counts for us is when patients allow us to make a difference in their lives by helping them achieve a beautiful smile and optimal health."
"As your dentist, my first priority is your oral health and well being. We have the best team in New Hampshire and we work to stay on top of the latest technological developments in the industry while providing the hometown care you deserve."
Dr. Rahim takes part in charity organizations to help support orphans and kids that need help.
---